Tomorrow, on Saturday the 12th, the local Parish Church, Saint Mary and Saint Margaret's, will be holding a 'Heritage weekend' and fund raising launch for the new 'community church room' that is planned to be built into the church.
We're going to be presented with some of the results of the archaeological dig on the Church grounds (and Castle Bromwich hall, upon whose grounds the Church sits), hear from local historians, and get unprecedented access investigating a church which is at it's heart almost a thousand years old! The gardens of Castle Bromwich hall are also well worth a visit, containing walled baroque gardens that are the only remaining example in the country of a formal English garden design.
If you have an interest in the Castle Bromwich and it's history then perhaps this might be something you'd like to come along to.
Details:
Time: 14:00
Date: Saturday the 12th of September, 2009
Location: St. Mary and St. Margaret's Church, Castle Bromwich, just behind Castle Bromwich Hall.
Here's the flyer for the event: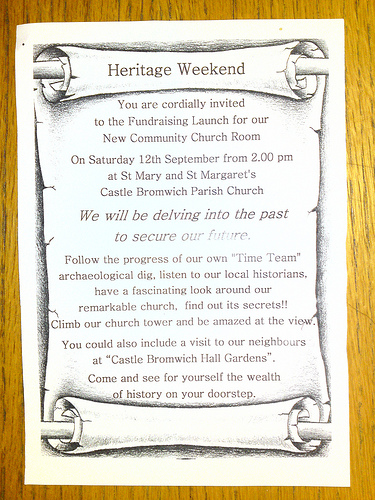 Links:
Links for this article: