This is the third part of a three part overview of UK Government G2G Messaging Sub-Systems.
Specifically this post is looking at the "Evolution of Messaging Sub-Systems used by the UK Government" – given the current, and the near-future, state of UK G2G systems, how might we expect them to mature and evolve.
At a minimum I would recommend reading part one of this series of articles, "Messaging Sub-Systems in the UK Government".
The near future – the most likely Shared Services Model
Shows which organisations are most likely to share "information" and function across the emerging UK G2G infrastructure.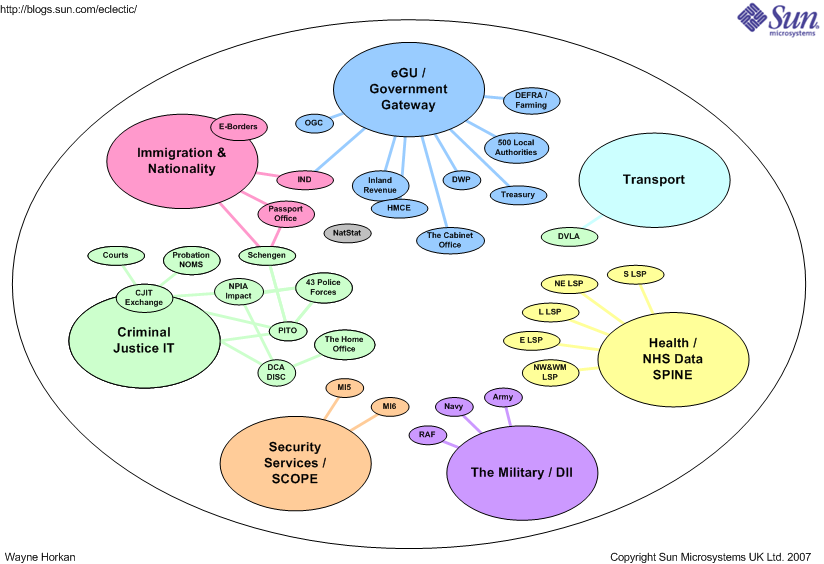 So… What Next ? It is only a matter of time before these Ontologies start to share information in a more controlled and planned manner.
In fact data traffic between a number of these G2G systems is already being planned out.
It's not hard to see that an "Evolution of the UK Government G2G eco-system" is taking place, specifically around two primary models: "Mesh" or "Hub".
Mesh
Shows the Mesh model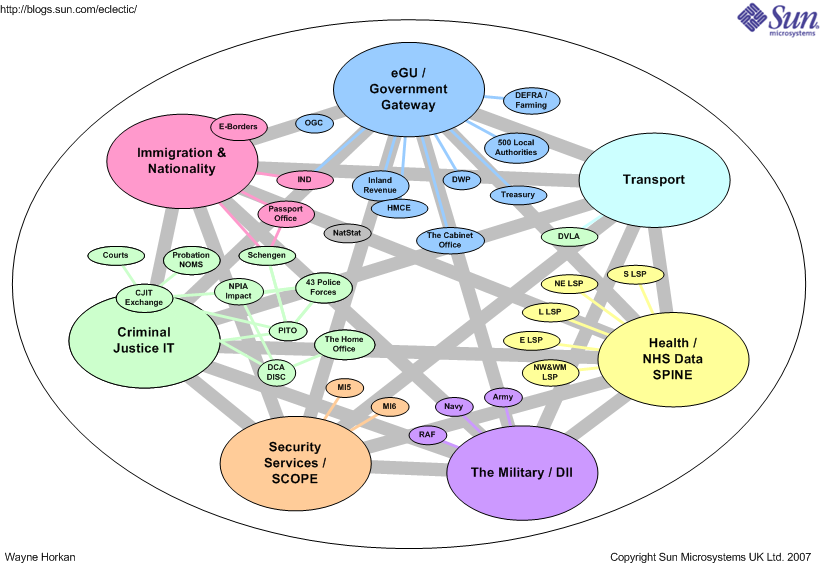 Currently the data traffic flows between the UK Government G2G systems (and constituents / members of those G2G eco-systems) are being planned to be developed in a point-to-point manner. The diagram shows just how convoluted that could become (if not worse), and easily shows how many connections, and end-points would need to support a full flow of information across these G2G systems.
In earlier versions of this analysis I used to pun that this model was "a bit of a 'Mesh'". Believing that moving forward the more controlled model of the Hub would win out over the Mesh model. However, given the lack of understanding of this issue space, probable costs involved in doing something more strategic (although the cost of doing large numbers of point-to-point integrations would dwarf these), and a very 'stove-piped' view of individual programme functional requirements, there is a lack of movement towards a more centralised Hub model at the moment.
Hub
Shows the Hub model
I used to say that "my money's" on the Hub Model, because: The Hub model allows for a host of new functionality, from a potential real time UK modeller & analysis, to a single one-stop shop access point, and a definitive cross UK ID understanding.
But the until the issue space is better understood and appreciated I doubt there will be more movement towards this model, and for the time being the "spaghetti" of the Mesh model will proliferate.
Simon Freeman's "Decentralised" Hub
Shows the the evolved Hub model postulated by Simon Freeman.
Simon Freeman's (Ex-eGU Chief Architect for the GG) opinion is that the major G2G Message Hubs will merge, and that the strongest (think VHS vs. Betamax, or even better, Ethernet vs. TokenRing) will win out – based upon volume & variety of usage (principally leaving the GG as the strongest by this metric). New functionality (see above) will then be built over this merged hub.
Even Chris Haynes, Director of EDT (Delivery and Transformation Group) at the Cabinet Office, recently said "Gateway is the emerging backbone of Government Service Identity Management." in a presentation titled "Identity Management across the Public Sector".
The accompanying diagram represents that possible evolution of the Government Gateway into the UK wide central G2G system.
That concludes my overview of UK Government G2G Messaging Sub-Systems – hope you enjoyed it.
Part one of this article, "Messaging Sub-Systems in the UK Government", and part two, "Comparison of Major Messaging Sub-Systems in the UK Government", are also avialiable.
As I mentioned in the first part of this series, I very much hope that at the very least the co-ordination of these G2G messaging systems will come under the remit of a cross UK government organisation, such as the CIO Council, and that John Suffolk, the UK Government CIO will be involved in supporting that initiative.
In a later post I will be looking at "Shared Services" in greater depth. Specifically at what "Shared Services" means to me, a value model (for judging how "Shared" that "Shared Service" is) and potential value calculator (I've got most of the content, just need time to get it online).
I will also delve into the Government Gateway, especially communication to and across it via Departmental Integrations Server (DIS) devices.
And I may even be up for a critique of the "UK Cross Government Enterprise Architecture", hosted over at the UK Government's CIO Councils CTO Council website.