Récemment, Eric Bezille compris le modèle de mon "Cloud Relationship Model" article dans son blog "Sur les pas du premier Camp Cloud à Paris …».Recently Eric Bezille included the model from my " Cloud Relationship Model " article in his blog post " Sur les pas du premier Cloud Camp à Paris… ". And I thought I'd translate the article into French for Philippe's readers. Et j'ai pensé traduire l'article en français pour les lecteurs de Philippe. I've had to use electronic translation (Google, actually) as I'm afraid my written and spoken French isn't quite good enough to be able to do it manually in a reasonable amount of time. J'ai eu à utiliser la traduction électronique (Google, en fait) que je crains que mon français écrit et parlé est pas tout à fait assez bon pour être en mesure de le faire manuellement dans un délai raisonnable. I haven't had time to translate the model itself, but you are more than welcome to recreate, reuse and distribute it, although I'd hope you would attribute the original version to me at this site. Je n'ai pas eu le temps de traduire le modèle lui-même, mais vous êtes plus que bienvenu pour recréer, de réutilisation et de la distribuer, mais je l'espère vous attribuer la version originale pour moi à ce site. Please let me know if there are any outstanding translation issues and I'll amend them when I can. S'il vous plaît laissez-moi savoir s'il ya des questions de traduction en suspens et je vais les modifier quand je peux.
This article was originally a guest post I did recently for Stewart Townsend over at Sun Startup Essentials describing the cloud relationship model I had developed as an artefact when discussing cloud computing. Cet article a été invité récemment post, je n'ai plus de Stewart Townsend à Sun Startup Essentials décrivant le modèle de relation de nuages j'avais développé comme un artefact de calcul lors de l'examen de nuages.
I wanted a simply model which I could share with people and use as a discussion point, whilst still capturing the major areas of cloud computing which I considered most pertinent. I developed this model about six months ago and have since found it useful when talking with people about cloud computing. Je voulais tout simplement un modèle qui je pourrais partager avec les gens et utiliser comme point de discussion, tout en capturant les grands domaines de l'informatique de nuages que j'ai jugé plus pertinent. J'ai développé ce modèle il ya environ six mois et ont depuis trouvé utile lorsque l'on parle avec les gens sur les nuages de calcul.

Here's the model and I'll go though it's major elements below. Voici le modèle et je vais bien que les principaux éléments ci-dessous.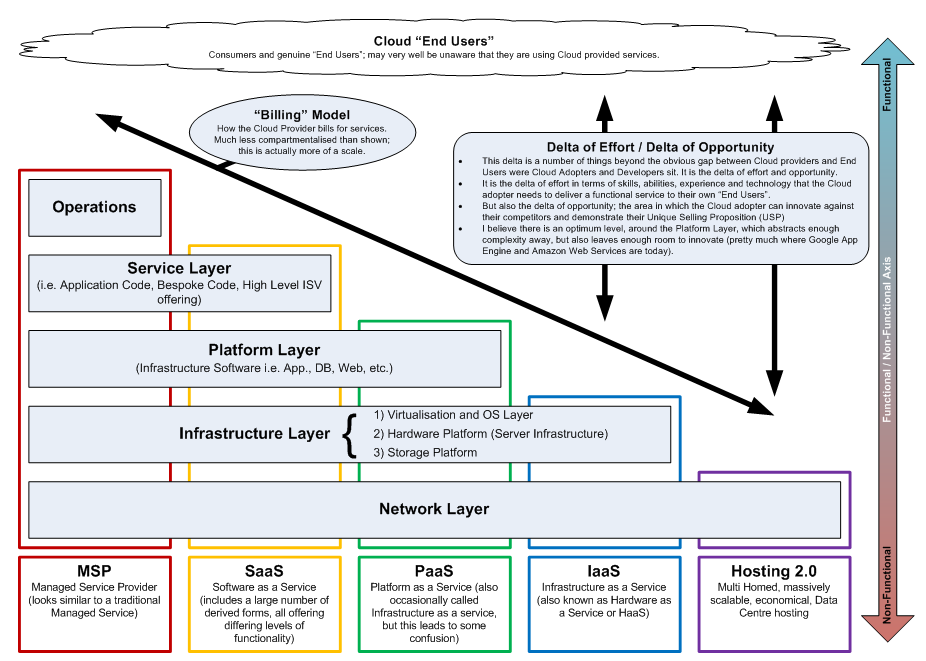 ¨C11C¨C12C¨C13C¨C14C¨C15C¨C16C
¨C17C¨C18C
Major Cloud Communities Major Cloud Communautés
¨C19C¨C20C¨C21C
In the cloud there are three major participants: Dans les nuages, il ya trois principaux participants: ¨C22C
the Cloud Providers; building out Clouds, for instance Google, Amazon, etc. Effectively technology providers. les fournisseurs de Cloud, la construction des nuages, par exemple Google, Amazon, etc efficacement les fournisseurs de technologie. ¨C24C¨C25C
the Cloud Adopters / Developers; those developing services over the Cloud and some becoming the first generation of Cloud ISVs. I have included Cloud "Service" developers and Cloud ISV developers together. les adoptants Cloud / développeurs, ceux de développer des services sur le Cloud et de certains de devenir la première génération de Cloud ISVs. J'ai inclus Cloud "Service" développeurs et éditeurs de logiciels de développeurs Cloud ensemble. This group are effectively service enablers. Ce groupe de services sont effectivement des facilitateurs. ¨C27C¨C28C
Cloud "End" Users; those using Cloud provisioned services, often without knowing that they are cloud provisioned, the most obvious example of which are the multitude of Facebook users who have no idea there favorite FB app. Cloud "fin" des utilisateurs; ceux qui utilisent les services Cloud provisionné, souvent sans savoir qu'ils sont des nuages provisionnés, l'exemple le plus évident dont la multitude d'utilisateurs de Facebook, qui n'ont aucune idée de là favorite FB app. is running on AWS. est en cours d'exécution sur AWS. These are the service consumers. Ce sont les services aux consommateurs. ¨C30C¨C31C
¨C33C
I think it's important to talk about these communities because I keep hearing lots about the Cloud Providers, and even more about the issues and 'needs' of the Cloud adopters / developers, but very little in terms of Cloud "End" Users. In a computing eco-system such as this where "services" are supported by and transverse technology providers, service enablers and service consumers an end to end understanding of how this affects these reliant communities is required. Je pense qu'il est important de parler de ces communautés parce que je continue à l'audience sur les lots Cloud fournisseurs, et plus encore sur les questions et les «besoins» des adoptants Cloud / développeurs, mais très peu en termes de Cloud "fin" des utilisateurs. Dans un le calcul de l'éco-système de ce genre où les "services" sont pris en charge par les fournisseurs de technologie et transversal, le service des facilitateurs et les consommateurs un service de bout en bout la compréhension de la façon dont cela affecte les communautés dépendantes est nécessaire. Obvious issues such as SLAs for end users and businesses which rely upon high availability and high uptime from there cloud providers come to mind; however other "ilities" and systemic qualities come to mind such as security, and that's before looking at any detailed breakdown of functional services. Évidente des questions telles que la SLA pour les utilisateurs finaux et les entreprises qui s'appuient sur la haute disponibilité et haute disponibilité à partir de là, les fournisseurs de nuages viennent à l'esprit, mais d'autres "ilities" et systémique qualités me viennent à l'esprit, comme la sécurité, et que l'avant de chercher à tout ventilation détaillée des services fonctionnels. ¨C34C
The point here is that the cloud adopters / developers and interestingly the cloud "watchers" (ie the press, media, bloggers and experts) would be mindful to remember the needs and requirements of genuine end users; for myself it'd certainly be invigorating to hear more on this topic area. Le point important ici est que le nuage adoptants / développeurs et intéressant le nuage "observateurs" (c'est-à-dire la presse, les médias, les blogueurs et experts) sont conscients de se rappeler les besoins et les exigences de véritables utilisateurs finaux, pour moi ça sera certainement vivifiant pour en savoir plus sur ce sujet. ¨C35C¨C36C
Billing / Engagement Models Billing / Fiançailles Modèles
¨C37C¨C38C¨C39C
Simon Wardley , a much more eloquent public speaker than myself, does a wonderful pitch which includes a look at the different "as a Service types" which he boils down to being a load of "*aaS" (very amusing, and informative, try and catch Simon presenting if you can). Simon Wardley, un public beaucoup plus éloquent orateur que moi, fait un merveilleux terrain qui comprend un regard sur les différents types de service »dont il se résume à être une charge de" * AAS "(très amusant et instructif, essayez Simon et les prises de présenter, si vous le pouvez).
I wholeheartedly agree that there is a large amount of befuddlement when it comes to the differing "aaS" types and sub-types, and new ones are springing up relatively frequently, however I also think it's important to not ignore the differences between them. Je suis entièrement d'accord qu'il ya une grande quantité de befuddlement quand il s'agit de la différence " AAS" types et sous-types, et de nouveaux voient le jour assez fréquemment, mais je crois aussi qu'il est important de ne pas ignorer les différences entre eux. ¨C40C
For me, and many others, I think first popularised by the " Partly Cloudy – Blue-Sky Thinking About Cloud Computing " white paper from the 451 Group, the differing "aaS" variants are identified as billing and engagement models. That white paper also postulates the five major Cloud Computing provider models, into which the majority of minor "aaS" variants fall. They are: Pour moi, et bien d'autres, je pense que le premier popularisé par "Nuages épars – Blue-Sky Thinking About Cloud Computing" livre blanc de la 451 groupe, les différents "* AAS" variantes sont identifiées comme étant des modèles de facturation et d'engagement. Ce livre blanc aussi les cinq principaux postulats Cloud Computing fournisseur de modèles, dans lequel la majorité des mineurs "* AAS« variantes automne. Ce sont: ¨C41C
Managed Service Provision (MSP); not only are you hiring your service from the cloud, you've someone to run and maintain it too. Fourniture de services gérés (MSP), non seulement vous votre service de recrutement des nuages, vous avez quelqu'un d'exécuter et de maintenir aussi. ¨C43C¨C44C
Software as a Service (SaaS); pretty much ubiquitous as a term and usually typified by Salesforce.com , who are the SaaS poster child. Software as a Service (SaaS), un peu comme un terme omniprésent et souvent caractérisée par Salesforce.com, qui sont les affiches SaaS enfant. ¨C46C¨C47C
Platform as a Service (PaaS); the application platform most commonly associated with Amazon Web Services. Platform as a Service (FQA), la plate-forme d'application les plus couramment associés à Amazon Web Services. ¨C49C¨C50C
Infrastructure as a Service (IaaS); Infrastructure as a Service (IAAS); ¨C52C¨C53C
Hosting 2.0 Hosting 2.0
¨C56C
One of the best breakdowns and visual analysis of this space is the model in Peter Laird's " Understanding the Cloud Computing/SaaS/PaaS markets: a Map of the Players in the Industry " article which is well worth a read. Un des meilleurs pannes et l'analyse visuelle de cet espace est le modèle de Peter Laird de «Comprendre le Cloud Computing / SaaS / Paas marchés: une carte des joueurs de l'industrie" l'article qui est très intéressant à lire. ¨C57C¨C58C¨C59C¨C60C
Major Architectural Layers Major couches architecturales
¨C61C¨C62C¨C63C
Also included in the diagram are the major architectural layers that are included in each of the above billing / engagement models offered by the Cloud providers. Également inclus dans le diagramme sont les principales couches architecturales qui sont inclus dans chacune de ces facturation / l'engagement des modèles offerts par les fournisseurs de Cloud. They are: Ils sont: ¨C64C¨C65C
Operations; and this really is operations supporting functional business processes, rather than supporting the technology itself. Opérations, et cela est vraiment fonctionnel des opérations de soutien des processus d'affaires, plutôt que de soutenir la technologie elle-même. ¨C67C¨C68C
Service layer; made up of application code, bespoke code, high-level ISV offerings. Service couche composée de code, code sur mesure, haut niveau de l'offre des éditeurs de logiciels. ¨C70C¨C71C
Platform layer; made up of standard platform software ie app. Plate-forme couche composé de plate-forme standard des logiciels c'est-à-dire environ. servers, DB servers, web servers, etc., and an example implementation would be a LAMP stack. les serveurs, les DB serveurs, serveurs Web, etc, et un exemple de mise en œuvre serait une LAMP pile. ¨C73C¨C74C
Infrastructure layer; made up of (i) infrastructure software (ievirtualisation and OS software), (ii) the hardware platform and server infrastructure, and (iii) the storage platform. Infrastructure couche composée de (i) des logiciels d'infrastructure (ievirtualisation OS et logiciels), (ii) la plate-forme matérielle et infrastructure de serveur, et (iii) de la plate-forme de stockage. ¨C76C¨C77C
Network layer; made up of routers, firewalls, gateways, and other network technology. La couche réseau, composé de routeurs, firewalls, passerelles, et d'autres technologies de réseau. ¨C79C¨C80C
¨C82C
This rather oversimplifies the architecture, as it's important to note that each of the cloud billing / engagement models use capabilities from each of the above architectural layers; for instance their can be a lot of service simply in managing a network, however these describe the major architectural components (which support the service being procured), not simply ancillary functions, effectively what are the cloud providers customers principally paying for. Cet excès de l'architecture, plutôt, comme il est important de noter que chacun des nuages de facturation / d'engagement de l'utilisation des modèles de capacités de chacune de ces couches architecturales, par exemple, peut leur être très simplement dans la gestion de service d'un réseau, mais elles décrivent les principales éléments d'architecture (qui soutiennent le service d'approvisionnement), et non pas simplement des fonctions auxiliaires, de manière efficace ce que les nuages sont principalement les fournisseurs de clients pour le paiement. ¨C83C¨C84C
Delta of Effort / Delta of Opportunity Effort de Delta / Delta de chances
¨C85C¨C86C¨C87C
This is much more than the 'gap' between the cloud providers and the cloud users, wherein the cloud adopters / developers sit, the gap between the cloud providers and the end cloud users can be called the delta of effort, but also the delta of opportunity. C'est beaucoup plus que le «fossé» entre les nuages et les nuages des utilisateurs, que le nuage adopteurs développeurs s'asseoir, l'écart entre le nuage et les utilisateurs de la fin des nuages peut être appelé le delta de l'effort, mais aussi le delta du occasion. ¨C88C
It is the delta of effort in terms of skills, abilities, experience and technology that the cloud adopter needs to deliver a functional service to their own "End Users". This will be potentially a major area of cost to the cloud adopters. Il est le delta de l'effort en termes de compétences, les capacités, l'expérience et de la technologie que le nuage adoptant doit fournir un service fonctionnel à leur propre "End Users". Ce sera peut être un domaine majeur de coût pour le nuage adoptants. But it's also the delta of opportunity;in terms of 'room' to innovate. Mais c'est aussi le delta de l'occasion, en termes de «chambre» à l'innovation. ¨C89C
The more capability procured from the cloud provider (ie higher up the stack as a whole), the less you have to do (and procure) yourself. However the less procured from the cloud provider the more opportunity you have engineer a differentiating technology stack yourself. This itself has it's disadvantages because the cloud adopters / developers could potentially not realise the true and best value of their cloud providers infrastructure. La capacité d'approvisionnement plus le nuage de fournisseur (c'est-à-dire en haut de la pile dans son ensemble), moins vous avez à faire (et acheter) vous-même. Toutefois, le moins obtenus à partir de la nuée fournisseur le plus vous avez la possibilité de différenciation ingénieur technologie pile-vous . Ce qu'il est lui-même a des inconvénients car les nuages adopteurs développeurs pourraient ne pas réaliser la véritable et la meilleure valeur de leur nuage les fournisseurs d'infrastructures. ¨C90C¨C91C
I suspect that there is an optimum level, around the Platform Layer, which abstracts enough complexity away (ie you don't have to procure servers, networks, implementation or technology operations staff), but also leaves enough room to innovate and produce software engineered value. Arguably the only current successful cloud provider, based upon market share, perception, revenue and customer take up, is Amazon Web Services (AWS) who provide a PaaS offering. Je pense qu'il ya un niveau optimal, autour de la plate-forme de couche, qui résumés complexité assez loin (c'est-à-dire vous n'avez pas à acheter des serveurs, des réseaux, la mise en œuvre des opérations ou de technologie), mais laisse aussi assez d'espace pour innover et produire de l'ingénierie du logiciel valeur. doute le seul fournisseur actuel succès des nuages, sur la base de la part de marché, la perception des recettes et des clients de prendre place, est Amazon Web Services (AWS) qui fournissent une offre Paas. ¨C92C¨C93C¨C94C¨C95C
Summary Sommaire
¨C96C¨C97C¨C98C
Hope you enjoyed the article, in summary if developing cloud services or even building out a cloud infrastructure I would recommend that you focus on your users and if your a cloud provider, your users' users; remembering that only a certain percentage of those users will be customers (I won't getting into discussing Chris Anderson's 5% recommended conversion rate for the long tail , however I would recommend understanding what some of those calculations might be). Espérons que vous avez aimé cet article, en résumé, si le développement des services ou encore des nuages à la construction d'infrastructures d'un nuage, je vous recommandons de vous concentrer sur vos utilisateurs, et si votre fournisseur d'un nuage, vos utilisateurs, les utilisateurs; de se souvenir que seul un certain pourcentage de ces utilisateurs être des clients (je ne vais pas entrer dans la discussion Chris Anderson recommandé 5% du taux de conversion pour la longue queue, mais je recommande la compréhension de ce que certains de ces calculs pourraient être). ¨C99C
If you're looking to develop services over the cloud, think carefully about where you and your teams skills lie, and where would you most want them focusing there efforts; working on installing and tuning operating systems and application platforms or writing business value focused applications and services, before choosing at which level to engage with your cloud provider(s). Si vous cherchez à développer des services sur le nuage, la réflexion sur l'endroit où vous et vos équipes les compétences se trouvent, et où vous le plus envie de les y concentrer les efforts, le travail sur l'installation et le réglage des systèmes d'exploitation et plates-formes d'application ou de rédaction de la valeur axée applications et des services, avant de choisir à quel niveau de dialoguer avec votre fournisseur de nuage (s). ¨C100C¨C101C¨C102C¨C103C
I haven't mentioned enterprise adoption of cloud based services, and that's because I'd like to post that in the near future in a different article. Je n'ai pas mentionné l'adoption d'entreprise de services basés sur les nuages, et c'est parce que je voudrais pour écrire que dans un avenir proche dans un autre article. ¨C104C
Hope you enjoyed the article and all the best, Espérons que vous avez aimé l'article et tous les meilleurs, ¨C105C¨C106C
Wayne Horkan ¨C107CWayne Horkan ¨C108C
¨C109C¨C110C¨C111C ¨C114C¨C115C
Links for this article:
]]>